This article contains spoilers, if that isn't as evident from the title as much as a jar of peanut butter may contain nuts. 'Rogue One: A Star Wars Story' is a film that shows that George Lucas finally made a good decision as regards to the Star Wars franchise: he handed it over to an organisation that knew what to do with it. 2015's Force Awakens and now the new film show that the movies are being guided by steady hands. Rogue One's plot was far more interesting than it's predecessor in Episode VII. While its conclusion was pre-ordained by the existing Star Wars canon, its approach to getting there was well-thought out. Of course, it wasn't without flaws, which is why we are here. While reviews have been waxing lyrical about the film, I thought it might be more interesting and in the true spirit of #grumpyoldman to point out its clangers. So here they are.
Crash Landing
The rebel mission to track down Galen Erso on Eadu started with a gut-wrenching crash-landing. While the special effects department did their job to depict the ship smashing into the unforgiving rocky planet surface as the crew decry, 'We're going down heavy…', all crew members emerge from the smoking remains relatively unshaken and without a hair out of place. They weren't even wearing seatbelts!

Death Star Flaw
So the film does provide an excellent explanation of why there is a flaw in the Death Star. Galen Erso is a fifth columnist who designs the flaw into the weapon. All well and good, but that doesn't explain why the flaw continues to exist in Death Star 2, and even in the next generation Starkiller Base.

Tarkin Ignorance
So Grand Moff Tarkin's appearance in the film was an exciting surprise. His uncanny-valley palour was easy to forgive. However, he does seem rather unbelievably clueless as regards to the vulnerability of the Death Star, and this isn't explained in the film. Not only is Orson Krennic desperately trying to stop the rebels from sending the Death Star plans from the data centre. Vader is relentless in trying to recover those plans from the scarpering troops on the Tantive IV, and Scarif is Death Starred from orbit to protect the data. There must be a weakness in the Death Star, given that the lead designer was revealed as a traitor. And yet when the attack on the Death Star is underway, during episode IV, Tarkin is informed, 'We've analyzed their attack, sir, and there is a danger. Should I have your ship standing by?'. To which Tarkin replies, 'Evacuate? In our moment of triumph? I think you overestimate their chances.' How can Tarkin be so tactically naive?

Jyn Erso Jackpot
Wow, the rebels really struck lucky with Jyn Erso. Not only did they find her on a prison transfer during a spring operation on Wobani. They managed to identify her, even though the resourceful Empire had not twigged that she shared the same DNA as their treasured Death Star designer. This is so remarkable that the rebels declare she is lucky the Empire didn't work out who she was. So how on earth did the ramshackle rebels manage this act of serendipitous due diligence? And they find her just as they need her to engage on a mission to network with the dissident Saw Gerrera who has literally just captured a defected Imperial pilot who happens to have a hologram addressed to her. She goes missing for sixteen years and gets randomly sprung on exactly the right day. Lucky, huh?

Tinterwebs
So the rebels manage to transmit the plans to the rebel command ship. Given that they have the technology to achieve interplanetary space travel, you would think they had pretty decent internet. And yet when the plans arrive, they don't put them onto the network and transmit them virally to all receivers. They just burn them onto a crappy tape drive thingy. Given the size of the fleet, it's pretty unbelievable that the tape drive is the only existing copy of the plans in the galaxy. Of course, if there were more copies of the plans, there would have been no point in rescuing Princess Leia from the Death Star in Episode IV.
Jyn Erso's Motivations
Jyn appears to completely flip her motivation towards helping the rebel cause for no apparent reason. Forest Whittaker's raspy Saw Gerrera asks her why she is involved, and she pretty much tells him that she just wants out now that she has reintroduced him to the rebel alliance. Gerrera is visibly distressed that she is completely indifferent to the cause. And yet, when they get back to the rebel base on Yavin IV, she has completely flipped her motivation. So much so that she is prepared to commit to a suicide mission that not even the Rebel Council agree upon as being a good idea.
Cassian Andor's Motivations
Cassian is shown to be so ruthless that he happily fires a laser bolt into the belly of his rebel co-conspirator at the Imperial outpost. And yet he has a sudden bout of conscience when he has the apparent super-evil designer of an intergalactic super-weapon in his cross hairs. You could say this is akin to the distrust that was communicated by the scene in the cantina when Han Solo (who shot first) dispatches of the unlucky Greedo; an action that is supposed to make you question his good intentions. But Andor shooting a rebel?
Death Troopers
Well, we saw them. They were great. However, the death troopers never rear their deathy heads ever again. Why were the death troopers deemed to be so ineffective that the Empire does not appear to continue to use their services in the following films?

Storm Troopers
The Stormtrooper plot hole crops up time and time again. If storm troopers are genetically-engineered super-soldiers, spliced together from the kick-ass DNA of veteran militant, Jango Fett by the Geonosians, how come they are so crap at being soldiers? Not only does Episode VI see them being defeated by a bunch of stone age teddy bears. Rogue One shows how they sloppily lose control of a prisoner transfer as their detail gets intercepted by rebels on Wobani.
Wobani Mission
Why were there highly risky rebel prisoner rescue missions being carried out on Wobani? Risking the lives of dozens of rebel soldiers and mercenaries for a few poxy prisoners that may or may not be useful to the cause seems like a dangerous way to spend resources. God only knows what random tombola of reprobates surfaced after each transport was attacked.
Darth Vader Misses His Opportunity
Vader appeared more interested in using his Sith powers to force levitate rebels into walls of the Tantive IV than he was in recovering the Death Star Plans. He appears to be so distracted that he doesn't use his Force air-grab power to levitate the tape drive that is being passed through the jammed bulk head door. Bit silly…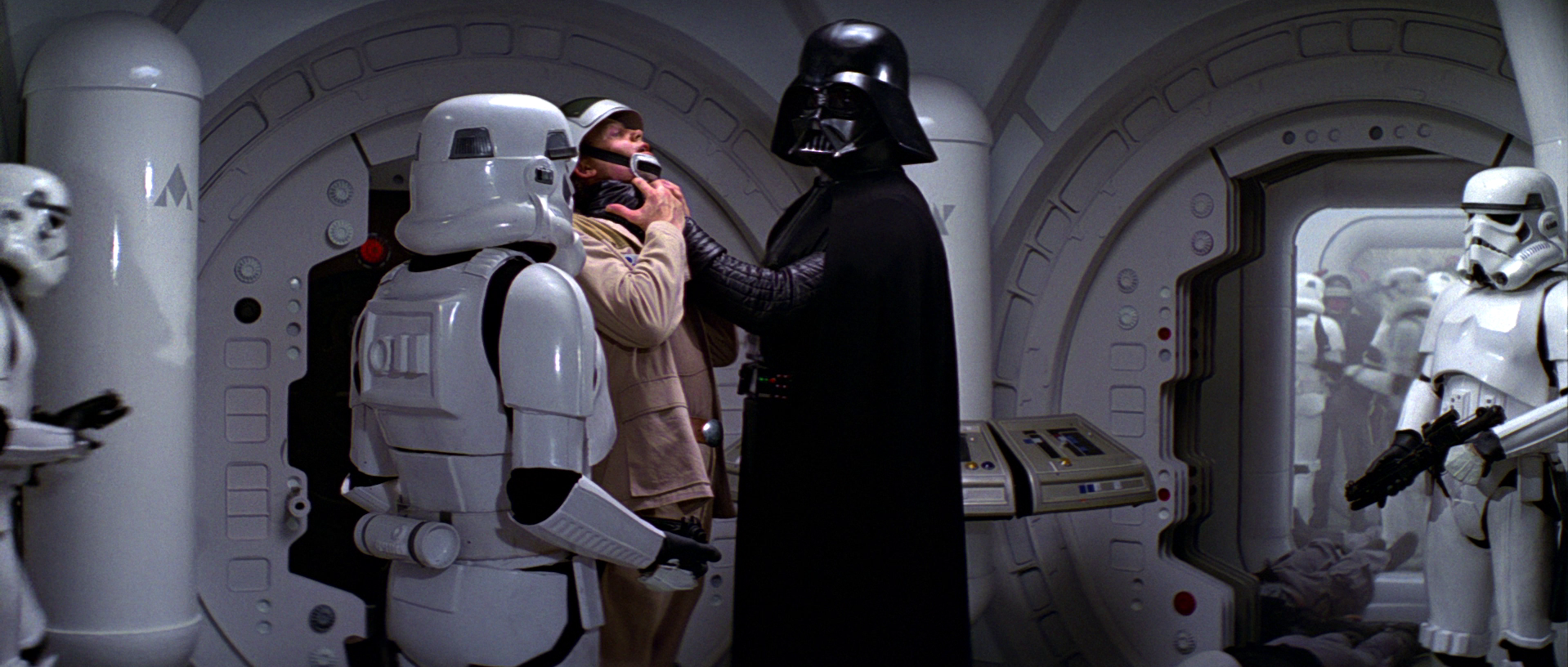 Mon Mothma
Another surprise return for a character from the original trilogy. And everyone likes a ginge. It turns out that Mothma appears to be the top dog, the Theresa May of the rebel outfit. She pops up again in Episode VI. So where did she disappear to in Episode IV and Episode V? Did she have better things to do? It's surprising that she neither played a part in the Yavin IV discussions to destroy the first Death Star, nor was she hanging out with her homies on Hoth.

Data Wipe
So the Death Star plans are being stored at the data centre on Scarif. So it was pretty obvious what the rebels were doing given the circumstances that arose after the Galen Erso breach incident. Would it not have been easier to simply wipe the data centre clean of data as opposed to using the Death Star to destroy the entire planet? And of course, by the time they did that, the horse had already bolted.
Galen Erso and Orson Krennic Left To Live

This one is a double header. The Empire have the chance to finish off a prone Galen Erso as he lies on the landing platform on Eadu. Why keep him alive when he is clearly of use to the rebel fighters who are attacking the base. Krennic hesitates as he boards the shuttle, but lets him live for no explained reason. The same happens when Krennic is prone at the data centre on Scarif. He's a high ranking Imperial officer, and yet assassin, Cassian Andor refuses to allow Jyn from unloading her blaster into the face of the man who effectively killed her parents.
Well, I think that just about covers it. Do let me know if you can think of anything else!